Are you planning to visit Slovenia soon? We have tons of awesome suggestions! Check this post to learn about the top places to visit in Slovenia where you'll find out what stands out the most in a country filled with culture and traditions to experience. Slovenia can be named as Earth's paradise where everything can be put on your hands and where you can experience lots of things in one country.
As you start your travel, you will realize that there are many exciting places to visit in Slovenia such as snowy peaks, greenish-blue rivers, lakes with hot springs, and impressive buildings that have reflections of charming Slovenian culture and many more. It seems like everyone will find what they want to do in a country where diversity takes place not only in the culture but also in its traditions, history, and Slovenian food. There is no need to wonder why Slovenia is sometimes called the land of diversity. It is a country that is a very welcoming and comfortable place to travel where the sun shines more than 2000 hours a year, so every season offers pleasant sunshine, even in winter.
Some of the people would probably wonder where Slovenia is – well, the country is located in northern Balkans and has borders with Italy (west), Austria (north), Hungary (northeast), and Croatia (south). It is a perfect location if you want to start your Slovenia travel from any of these countries. Slovenia is a charming country with lush nature making it one of the greenest places in Europe. Get inspired and wonder its unspoiled countryside with its plains and hills, national parks with mountains, lakes with beautiful colored woods, and sandy beaches on the Adriatic Sea coast.
Not to mention, Slovenia is quite famous for being a European, outdoor activities capital: you can try skiing, hiking, canoeing in the Mountain Rivers, horse riding, and other various water sports. Slovenia can certainly guarantee that your holidays will be full of extreme activities. Of course, if you aren't fond of outdoors, the country offers great hot springs in the lakes, relaxing thermal baths, worth-seeing architecture, and cozy local coffee shops and restaurants full of delicious Slovenian food and wines.
Once you visit Slovenia, you can't stop going again and again because there are so many things to do and never-ending beautiful places to see.
Postojna Cave
One of Slovenia's points of interest, Postojna Cave is located near Postojna in the southwest of the country. The cave's system is 24 km long and two million years old that makes it be the top in the Slovenia attractions list. Postojna Cave has numerous caverns, halls, and passages. Of course, there are quite big galleries which are famous for their bizarre-looking stalagmites. Sadly, the visitors can only explore 5 km of this beautiful cave, and 3,2 km of 5km consists of riding an electric train. Probably the most shocking and unique cave's feature is that there is a concert hall that can accommodate up to 10 000 people for the performance, and this usually takes place during Christmas and New Year, so it will be an excellent place to enjoy a concert in the cave.
If it's your first time in Slovenia, the Postojna Cave has to be included in what to see in Slovenia list.
Lake Bled
Lake Bled is located in the Julian Alps, which are in northwestern Slovenia. The lake is one of the most famous visited Slovenia destinations outside Ljubljana, the country's capital city. Lake Bled is famous for its great location – surrounded by the beautiful mountains and rocky cliffs – and the emerald green water that fascinates everyone for its clearness.
This famous lake has a small islet that has a few buildings. The famous and the most visited building is a small church that was built in the 17th century and is a very popular destination for weddings. Also, while exploring Lake Bled, you can visit the Bled castle that is hanging on the cliff and offers a picturesque view of the lake.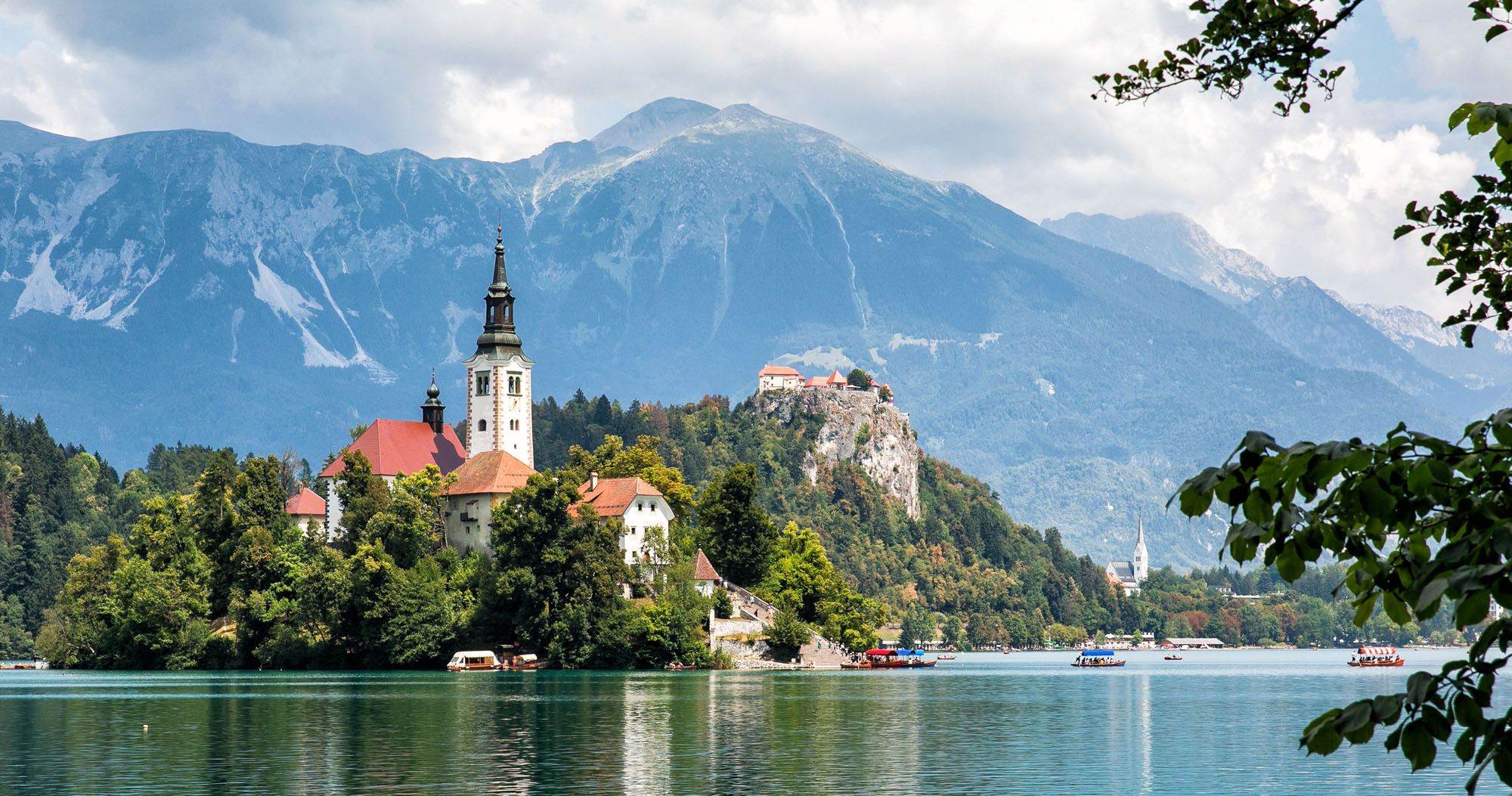 Triglav National Park
Triglav National Park is one of the most unique places to visit in Slovenia. The national park is one of the largest national parks in the whole of Europe, which takes a big part in Slovenia tourism. Lots of people going to the park to see or hike the park's highest mountain called Triglav that is 2864m above sea level. Also, tourists can enjoy the beautiful green scenery with river gorges, ravines, lakes, canyons, caves, rivers, waterfalls, forests, and Alpine meadows.
If you're not into hiking or enjoying nature's scenery, you can try various outdoor activities such as water sports, cycling, rock climbing, or horse riding.
Skocjan Caves
If you decided to travel to Slovenia, you probably heard about the famous Skocjan Caves that are listed as UNESCO's natural and cultural world's heritage site. The passages of Skocjan Caves are 6 km long and sometimes can reach up to 200 m depth all in total. Sadly, the tours allow you to walk only about 3 km. However, you will see the beautiful chambers, canyons, and waterfalls that will take your breath away. The unique feature of this caves system is that it is known as one of the world's largest underground canyons and is recognized as one of the natural treasures of the planet.
This place is one of the most popular Slovenia tourist attractions as it has around 100 000 visitors a year.
Lake Bohinj
Lake Bohinj is recognized as the most beautiful natural lake in Slovenia and lies in the Triglav National Park. It's probably one of the most beautiful mountainous places to visit in Slovenia. The lake is surrounded by small villages that are worth to explore and don't forget to pop in the Alpine Dairy Museum where you can try the delicious local cheese. Also, the lake has a magnificent and the biggest Slovenia's waterfall that is called Savica waterfall, so you would be able to take fantastic photos with a waterfall background.
The lake itself is a perfect place for swimming, water sports, and leisure cruises. You will be impressed that emerald blue clear water and epic scenery that looks like a picture card from one of the Pacific islands.
Ljubljana
Ljubljana is the capital city of Slovenia that is the largest Slovenia's city and one of the greenest Europe cities. Slovenia capital city is a pedestrian's friendly capital where car traffic is limited downtown. There are lots of interesting things to do in Ljubljana, such as exploring art galleries, visiting unique churches, or just simply strolling around the city by the Ljubljanica River. Lots of people say that Ljubljana is similar to Budapest because of its charming grand buildings in the background of the river.
Hotels in Ljubljana Slovenia are fairly cheap, so you won't need to worry about the high prices if you decide to stay longer in the city. Ljubljana, like other cities of Slovenia, is famous for its picturesque view of the mountains and the city that looks like a perfect composition for a drawing. D
Don't forget to explore the famous Ljubljana castle and go hiking on the outskirts of the capital.